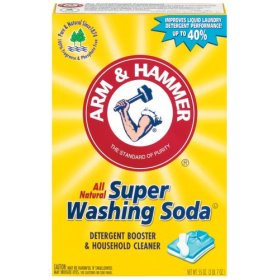 First we tackled the dryer; now we're on to the dishwasher! Apparently, a homemade version is incredibly easy to make and cheap cheap cheap. (I found this recipe repeated on about a dozen other websites, but it's so good, it required a Curbly appearance.)  
What you need:
For the detergent:
Mix 1 part Arm & Hammer to 1 part 20 Mule Team.
Add 2 tablespoons of your powder concoction to your dishwasher's detergent dispenser.
For the rinse aid:
To combat water spots, add vinegar to your rinsing agent dispenser.
And that's it!! Could it get any easier?!